NEWS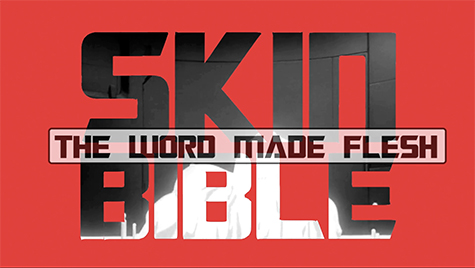 SKIN BIBLE:
THE WORD MADE FLESH
Taboo, Transgression, Transcence in Art and Science
University of Applied Arts Vienna/Online
26-28 November, 2020
https://avarts.ionio.gr/ttt/
Keywords: bio-art, queer art, sci-art, science fiction, science fact, myth making, post-humanism, performance, socially engaged practice
Skin Bible: The Word Made Flesh is a collaborative project by Canadian trans-medial/performance artist Michael Dudeck and Australian bio-artist Niki Sperou. The project centers upon the transgressive artifact, Skin Bible, bound in a laboratory produced 'skin like' marine algal biopolymer matrix seeded with the Dudeck's cells. Contents include illuminated images from Dudeck's RELIGIONVIRUS space opera; a transdisciplinary glossary; and other collaborative input. The artefact speaks within a chapel of performance work and installation.
Skin Bible builds upon longstanding investigation by both artists; Dudeck's 12 year fictional queer religion and mythological space opera, disseminated in over 25 countries, titled RELIGIONVIRUS and Niki Sperou's 20 year reflection upon the fusion of contemporary biotechnology with Ancient Greek myth and philosophy, science as ritualistic process, and her production of fleshy forms and Chimerical human-plant hybrids. Deviating from the moral limits of a Judeo-Christian value system, their work extends upon religious myth making and speculative futures.
Dudeck and Sperou find synergy through combining science, myth and ritual as a way to re-frame age old questions that interpret worlds. Sperou sculpts with the inherent strategies of living media together with biotechnological technique toward ethical, social and aesthetic investigation. She adopts mythological narratives and structures to evaluate the implications of contemporary biotechnology and its implications. Technology and ritual constitute rational behaviors and inform how we submit to power. Dudeck creates a fictional religion as a kind of carpentry of the sort that Ian Bogost describes—a philosophical practice of "making things that explain how things make their world." Thus, Dudeck aims to provoke those questions, and expose the inherent constructivity or artifice involved in creating a religion. Dudeck, however, is always careful to refer to this religion as a virus. This is a loaded but intentional strategy that is contagious and not culturally specific. Artist, Orlan has said that the artist's duty is to pose a question. For Dudeck an attempt to answer these questions runs the risk of situating the work into the sphere of the cultic rather than the contemplative.
The marine algal polymer matrix was developed with the Centre for Marine Bioproducts Development (CMBD) at Flinders University, South Australia as an extension of Sperou's Australian Network for Art and Technology residency. In 2020, Sperou collaborated with CMBD toward research and development of biodegradable marine algal bio-plastics with an industry, medicine and cultural focus. Dudeck's dream of a bible seeded with his DNA resulted in an opportunity for Dudeck to undertake a residency in 2021 at CMBD to work collaboratively with Sperou to produce a 'skin like scroll'. Negotiation with various authorities extended this project beyond accepting artistic and philosophical frameworks. Framing the Skin Bible required transcendence through delicate terrain in order for it to pass.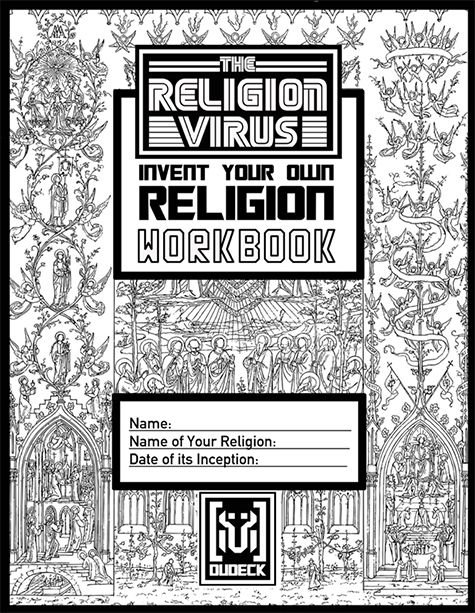 INVENT YOUR OWN RELIGION
The Art of Inventing Religions
"The Art of Inventing Religions", hosted by the Department of Theology and Religion at Durham University. The lecture will go from 19:30 -21:00 at Trevelyan College, in the Dowrick Theatre at Durham University.
This is the first chapter of the larger 'Invent Your Own Religion' series, which will be subsequently presented at the University of Edinburgh School of Divinity (March 11, 2020) and as part of "Crisis Collective", the 11th International Conference on Artistic Research at the Faculty of Fine Art, Music and Design at Bergen University, hosted by the Society for Artistic Research (March 25-27, 2020). The lecture explores the first wave of "Invented Religions" emerging out of the countercultural revolutions of the 1960s, with particular emphasis on the role of Dr. Timothy Leary's "Start Your Own Religion" philosophy on early religious cults based off the writings of JRR Tolkien, Robert A. Heinlein and L. Ron Hubbard. Analyzing the role of media, and internet in the Second Wave of Invented Religions (Matrixism, Jediism, Chaos Magick and others) I will speculate upon and introduce the artistic invention of my own religion (RELIGIONVIRUS), the mythology and experimentations with belief it produces and explore notions of Religion-as-Medium and Religious or Theological Prosthetics. The event concludes with a short 'Invent Your Own Religion' workshop, a sample of a much larger program I am currently developing.
The Art of Inventing Religions
Jan. 24, 2020. 19:30-21:00
Department of Theology and Religion, Durham University
Dowrick Theatre, Trevelyan College, Durham University
For the past 10 years Dudeck's work as an artist and punk theologian has involved the invention and dissemination of a fictional religion and space opera called RELIGIONVIRUS. The project has involved ritual performance, museological installations, the creation of fictional artifacts, languages, maps and scriptures, the composition of a fictional bible and most recently the development of a virtual web-based temple. Dudeck's PhD at Edinburgh College of Art explores the contemporary phenomenon of invented religions emerging in the information age and the type of belief practises they produce. In this lecture/workshop Dudeck will discuss the strategies used by Invented Religions in order to incite and challenge practises of belief, show some of their art practise and how those practises have been presented to the public, and will end in a workshop/activity where participants will invent their own fictional religions and explore the worldbuilding processes that Dudeck describes in his presentation.
Michael Dudeck is an artist, witchdoctor and cultural engineer. Their work has been performed/exhibited/screened/ published in over twenty five countries in over fifty independently commissioned projects worldwide. They are currently a Practise-led PhD student at Edinburgh College of Art, and their thesis, entitled 'Make Belief' explores the invention and dissemination of invented religions in the information age and the belief practises they inspire, in relation to their own invented religion as art.
SEEK COMMON GROUND:
HOW TO TEMPLE
https://www.youtube.com/watch?v=xexh6S6rack&feature=emb_title
Talk/Vodcast: 31.1.2020
Lu'um Werkstatt, Hamburg, Germany
http://luum.xyz/seek-common-ground/
A discussion between the priest (Frank Engelbrecht), the artist (Michael Dudeck) and the collective (Javier Acevedo, Alberto Kanin). We talk about temples and how to establish them, coexistence of ideals and the impact of collaboration.
"A temple is a building (space) that is devoted to the practice of rituals. People congregate and gather to comunicate and exchange (pray). Where the practice of it involves to give something of value back to the ecosystem one believes in (sacrifice)."
What are the shared beliefs and ideals that we can agree on? Where and when can we find common ground – a temple that we could relate to despite of our differences?
https://templeofartifice.com/
http://www.michaeldudeck.com/
https://stadtkuratorin-hamburg.de/en/art/m-dudeck/
SCIVIAS
Haus für Musiker : SCIVIAS
Michael Dudeck (Kanada) und Annette Elster (Hombroich)
Haus für Musiker
Raketenstation Hombroich 12
D-41472 Neuss
Freitag/Friday, 7 Februar/February 2020
Samstag/Saturday, 8 Februar/February 2020
19:00
SCIVIAS is an experimental multimedia collaboration between Michael Dudeck and Annette Elster, which transfers the musical, visual and mystical vision of Hildegard von Bingen into the contemporary landscape of new media. An experiment that brings time and space into presentation on various levels. SCIVIAS combines video, ani mation, light icons, drawing, electronics, performance, traditional music and human voices in the space. SCIVIAS will be presented to a larger audience for the first time at the Haus für Musiker. Afterwards there will the opportunity to talk to the protagonists Michael Dudeck and Annette Elster.
SCIVIAS ist eine experimentelle, multimediale Zusammenarbeit zwischen Michael Dudeck und Annette Elster, welche die musikalische, visuelle und mystische Weltsicht der Hildegard von Bingen in die zeitgenössische Landschaft der neuen Medien überträgt. Ein Experiment, das auf verschiedenen Ebenen Zeit und Raum in Darstellung bringt. SCIVIAS verschränkt Video, Animation, Lichtikonen, Zeichnung, Elektronik, Performance, traditioneller Musik und menschliche Stimmen im Raum. Im Haus für Musiker wird SCIVIAS erstmalig einem größerem Publikum präsentiert. Im Anschluß gibt es die Möglichkeit zum Gespräch mit den Protagonisten Michael Dudeck und Annette Elster.
As part of the Haus für Musiker programme of the Stiftung Insel Hombroich SCIVIAS is sponsored by the Kunststiftung NRW.
Als Teil des Programms Haus für Musiker der Stiftung Insel Hombroich wird SCIVIAS durch die Kunststiftung NRW gefördert.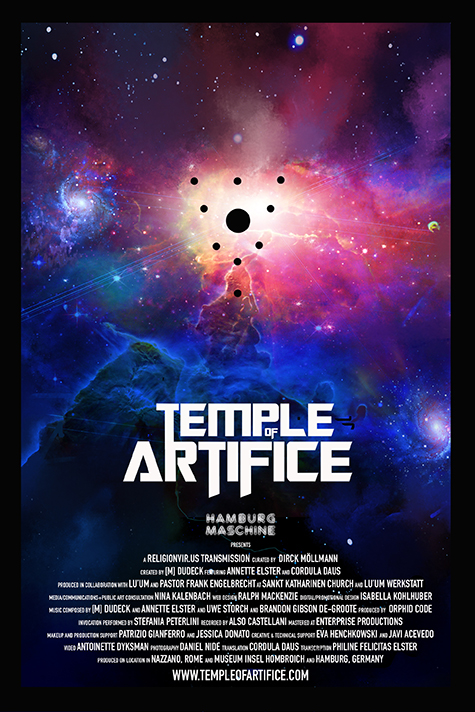 Temple of Artifice
I. PERFORMANCE: 22 September 2019, 7.30 pm
main church St. Katharinen
II. DIGITAL TEMPLE: online 22 September 2019
www.templeofartifice.com
III. EXHIBITION: 22 September – 20 October 2019
parking garage Katharinenkirche
The Temple of Artifice is a transmedial artwork by artist and witchdoctor [M] Dudeck, commisioned as part of HAMBURG MASCHINE, a two-year program for art in public space by Dirck Moellmann. For the past decade Dudeck's work has involved the invention of a queer sci-fi religion and mythology. His current project The Temple of Artifice takes the invented religion as a starting point to explore the role of the temple in the information age. Dudeck's artistic practice can be directly related to the question of the aspects and modes of action of digitality, the program focus of HAMBURG MASCHINE.
The Temple of Artifice involves three central aspects :
A neo-liturgical performance, featuring [M] Dudeck, opera singer Annette Elster and artist/writer Cordula Daus. The performance presents a series of seven sermons, performatively and ritually exploring seven artifacts (Hypericons) written and designed by Dudeck as part of his mythology RELIGIONVIRUS, and involves an original sound-track, recorded and produced by a team of international sound engineers and musicians working together as part of RELIGIONVIRUS PRODUCTIONS. The entire work expands upon themes emerging from Dudeck's fictional religion, Artifism.
A digital multimedia temple – www.templeofartifice.com – animating the same themes as the performance, exploring the possibility of an invisible temple in cyberspace, also featuring all seven Hypericons and the original soundtrack.
An exhibition in collaboration with the artist collective LU'UM shows the original Hypericons in a former workshop of the parking garage outside St. Katharinen's gates. The liturgical performance leads all participants in a procession from the church to the car park garage in order to offer refreshments and space for discussions in the temporary gallery workshop there.
For the past ten years, [M] Dudeck has presented transmedial episodes of his fictional RELIGIONVIRUS in over twenty-five countries, in live ritual performances, museological installations, sacred electronic musical performances, techno-sermons, and most recently the construction of a web-based digital temple. The performance on September 22, the material presented on www.templeofartifice.com, and the exhibition, chronicles the origins and cosmogony of Dudeck's sci-fi religious mythology, occuring in a post-apocalyptic ››ancient future‹‹ that follows the birth of a God in the aftermath of a global cataclysm.
The performative sermons in St. Katharinen will be delivered in English, German and Dudeck's intervented language. The work combines theology, science fiction, queer theory and pop music to create a multimedia spectacle that reflects the function of a sacred temple in the information age.
Sample of the Multimedia Soundscore for digital temple and live performance:
https://soundcloud.com/user-321321404/temple-of-artifice-invocation
Time and venue:
I. PERFORMANCE
Main church Sankt Katharinen, 22 September 2019
7.30 pm introduction with Pastor Frank Engelbrecht and Dirck Möllmann
8.00 pm begin of the performance
Katharinenkirchhof 1, 20457 Hamburg
II. DIGITAL TEMPLE – web-based artwork
www.templeofartifice.com – online 22 September 2019
III. EXHIBITION at parking garage Katharinenkirche next door,
Neue Gröningerstraße 12, 20457 Hamburg (in collaboration with LU'UM collective and WERKSTATT Gröninger Hof)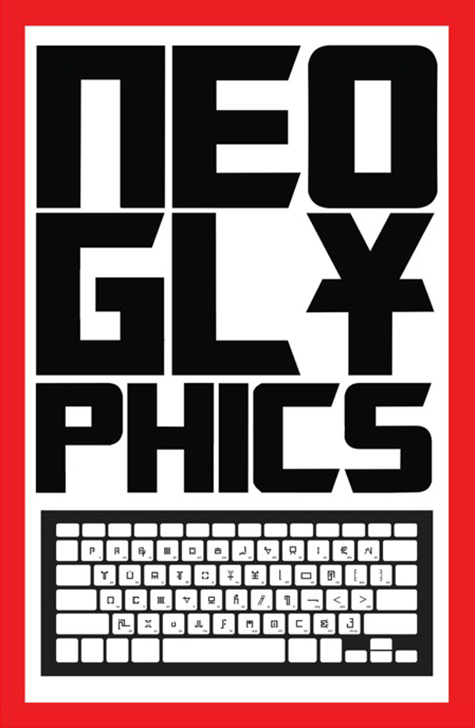 Neoglyphics
Lecture/Performance
As part of Convocation on Expanded Language Based Practises
Research Pavillion, Venice Bienalle
June 17, 2019
https://www.researchcatalogue.net/view/614742/614743?fbclid=IwAR25xPbQTTD2VSZQxEW4YsDZdMEI7LE4YUkYxWbNkDgTr--VtYEVPWSqna4
NEOGLYPHICS will provide a brief taxonomy of alphabets, languages, hieroglyphics and pictograms invoked within my performative mythology RELIGIONVIRUS embedded in a historical trajectory of invented languages from SF, whilst excavating the medium of the sacred religious text and probing the role of the queer and overtly fictional holy writ amongst secular Millennials in the Information Age.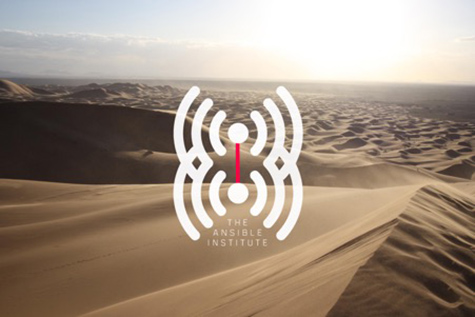 The Ansible Institute
The Ansible Institute welcomes applications for its inaugural three week residency hosted by Café Tissardmine in the Moroccan Sahara, April 26-May 16, 2020.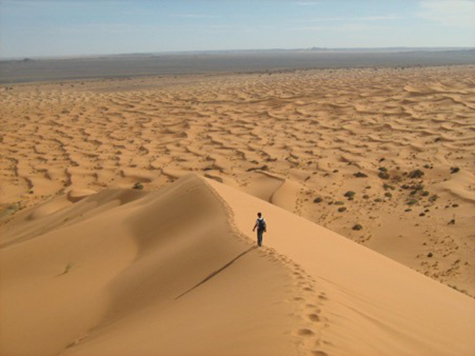 We are seeking proposals from practitioners across all media and disciplines with interest in the strategic use of speculative fiction.
The Ansible Institute is a transitory speculative fiction research laboratory, facilitated by artists/writers Martina Raponi and [M] Dudeck. We construct environments that activate the imaginative possibilities of worldmaking across media, while probing, mapping and deconstructing its modes and mechanisms through media analysis, collective reflectivity, seminars, critical dialogues, workshops and the sharing of eachother's individual work in a supportive and critical environment. The residency also leaves considerable time for individual focus upon one's own creative work in any media.
Application:
Please submit an application in any medium (no larger than 20MB) that addresses each of the following provocations, and email to info [[[at]]] ansible.institute by Nov. 20, 2019 :
Who
Situate yourself, describe your practise.
What
Submit an actual or speculative proposal that identifies a point of departure for your exploration over the course of three weeks in the desert.
Note: All media are welcome, however, there is limited electricity and internet connection, so be mindful of this when imagining your proposal.
Why Speculative Fiction?
Please explain to us why speculative fiction and its accompanying strategies are relevant to your project or ongoing work.
Where
This residency takes place in a remote location in the Moroccan Sahara, in the traditional territory of the Amazigh (Berber), in an outpost built and maintained by Karen Hadfield, who has lived among the Amazigh of the region for the past nine years. This location requires sensitivity to cultural norms that may be different to your own, and due to the sometimes harsh and challenging climate of the desert, a level of radical self-reliance, civic responsibility and communal effort is required. Please demonstrate your willingness and capacity to enter into this geo-political and cultural location.
How
The moment we enter the compound we enter a shared space where everyone is responsible for themselves, and also to the collective space we create together. How do you define Respect ? How do you define the responsibilities implicit in shared collective space ?
About the Residency:
We are interested in excavating the fabric of alternative realities, in dialogue with inherited realities, that blur the line between fact and fiction. The Residency will combine interdisciplinary intermedia dialogue sessions facilitated by Ansible with adequate time and space in the desert to devote to everyone's individual praxis. Optional screenings will take place regularly, and participant-led workshops or seminars are very welcome. As the inaugural residency of the Ansible Institute we wish not to pre-scribe or pre- shape its direction but rather allow it to mutate in accordance with what everyone brings and builds together. Our role as residency facilitators is to provide conceptual scaffolding to house the collective and individual journey, while at the same time structuring it with a conceptual apparatus that provides creative nourishment for speculative fiction imaginaries.
We are assembling a playlist – that combines music/audio, film, text and other media which we encourage all participants to contribute towards. There will be no mandatory readings or viewings but a program of our workshops will be distributed at least one month prior to the residency so those who wish to familiarize themselves with the material we are referencing have ample time to do so. We will have a projector and so if you bring relevant films/media they can become a part of our optional screenings as well.
A typical day at Cafe Tissadermine is as follows: until 11 the residents can get breakfast. Early risers can use their time in the morning as they wish. From 11 to lunch time at 13:00/13:30 there is time for working on independent projects. Group Lunch, then group activity/seminar/workshop. Tea time is at 16:00 (optional). Between tea and dinner, rest and private work time in the afternoon. Group Dinner 19:00. After dinner: screenings or private rest time.
There are places for eight participants on the residency.
About the Location:
You will arrive by bus in the evening to the village of Erfoud, where you will be met by us and transported via 4X4 to the site of the residency.
There are no roads to/from the residency site – veteran Berber nomads drive across sandroutes to lead us to this remote and ancient Berber meeting site. We will live together at the compound of Café Tissardmine, which is fully equipped with showers (not always hot water), and the residency fee of €750 includes accommodation, 3 meals a day, a group trip to Erg Chebi Dune, and a group trip to the nearby village of Rissani. You will be responsible for transporting yourself to Marrakesh and taking a bus through the Atlas Mountains to meet up with the residency. The Compound can host up to eight participants, five solid-built permanent tents and four mud-brick rooms, all of which have en-suite bathrooms and showers (please specify if you would prefer mud-brick or permanent tent, and if you are flexible). Selected participants will receive a google form with further details and preferences in order for us to facilitate a safe shared environment. Please demonstrate to us your capacity to engage with the cultural, ecological and artistic environment you will be participating within.
For more information on Ansible Institute, Martina Raponi and [M]Dudeck please click here.
For more information on Café Tissardmine, please click here.
If you have any questions please do not hesitate to contact us directly at info [[[at]]] ansible.institute
Note : Applications are due Nov. 20, 2019 and we aim to have the results of the application available before Jan. 1, 2020. We will work to support participants to gather funding, providing letters of invitation and other resources to help make the trip possible.
Star-Shrines of Artifice
Installation/Exhibition
Centre Never Apart, Montreal, Canada
July 9-Sept. 31, 2020
Scivias : ReMixing the Work of St. Hildegard von Bingen
in collaboration with Annette Elster
Performance/Installation
Musikerhaus, Museum Insel Hombroich, Neuss, Germany
Feb.8, 2019, 19:00-20:00
The Religion Virus
Interview between Troja Norz and [M]ichael Dudeck, meta-interview between David Mason and Michael Dudeck
Issue 11.1
Ecumenica
Journal of Theatre and Performance
Issue 11, Summer, 2018
Edited by David Mason
www.ecumenicajournal.org/category/recent-issue
Letter from the Editor
David V. Mason
"The submission did not jump to the top of the priorities list. In fact, I regret to say that I did not look at the submission itself right away. I set the email aside for later consideration, whenever I had some time. And we all know how often that happens. When I did come back to that email, I was inclined to set it aside again. But I've always been a sucker for audacity, and there was unmistakable audacity in submitting "a fictional interview" to an academic journal. The message included a URL, so I let my curiosity lead me along for a fortunate moment.
Michael Dudeck's work grabbed ahold of both my ears and gave my head a good, sharp shake. One thing was immediately clear: Dudeck was not playing around. The artist was earnestly exploring, in mind and body, and with no mean effort, the confluence of performance and religion. I e-tripped over myself, going back to the email's attachment. As a performance piece of its own, the fictional interview offered up a captivating tumble of theories, intimations, descriptions of process, insights, and musings—an encounter with a headlong imagination. Hoping to amplify some of the artist's ideas about ritual, performativity, and narrative, without imposing on the submission's inspiration, I talked them into undertaking with me an added layer of commentary. The result is a meta-discussion about a fictional interview about real art.
In performance studies, we talk a lot about doing things. Practice matters, we argue, and we look for ways in which performance is research, for how the body knows, for what rehearsal and discipline teach. Scholarship, surely, has forms we have not yet realized. If this iteration of Michael Dudeck's work is not one of them, I hope that readers, nevertheless, find themselves as happily trapped in the layers as I have been.
Included also in this issue are four essays developed from a conference panel organized last year in Las Vegas by the Theatre and Religion focus group of the Association for Theatre in Higher Education. It's an eclectic mix. Not only do the essays concern diverse topics, but each is tied up with some manner of strange hybridity. Jonathan Wanner finds St. Augustine sighing through Shakespeare. Dana Tanner-Kennedy shows us just how languid the post-postmodern apocalypse will be. Rachel M. E. Wolfe describes Racine packing Euripides into an appropriately French box. Aaron Brown discovers Broadway going to church. Altogether, these practicum essays give us the Four Horsemen of the Apocalypse being content that St. Augustine just sacrifice himself to the Académie Française while a gospel choir sings "O Happy Day."
Studying performance and religion never gets old."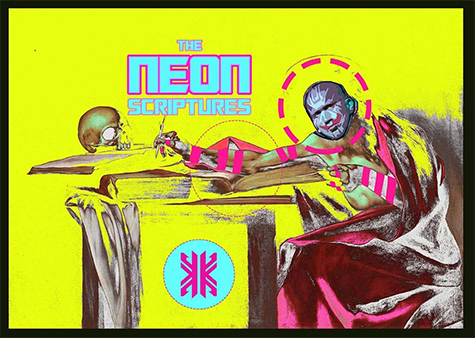 The Neon Bible
as part of the first international festival of Performative Art in Minsk, Belarus
June 29 - July 1, 2018
In "The Neon Bible", Michael Dudeck will transform a gallery within the Cultural Centre Korpus into a neon monastery, wherein they will occupy a neo-monastic installation for 4 hours a day for the three days of the festival. The installation comprises of diagrams, drawings, scriptures, artefacts and ritual objects from the past ten years of Dudeck's queer religious mythology, The Religion Virus. Performing as a Queer Monk, inscribing the mythology in an invented language onto black scrolls, the performance will be augmented with digitally composed psalms and a vocally modulated narrator telling aspects of the mythos to animate the process.
Ramboys, Horned Gods & Queer Wizards
Essay as part of NeverApart's exhibition of Evergon : The Ramboys
Michael Dudeck has been commissioned to compose an original, highly personal essay on the evolution of Evergon's queer mythology The Ramboys, its religious and mythic underpinnings, and the role it had in the development of Dudeck's own invented queer religion.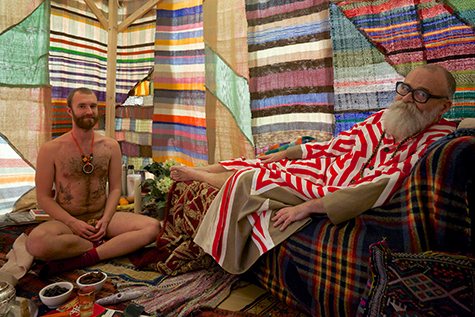 AA Bronson, Tent for Healing (in collaboration with Travis Meinholf), 2013, exhibition view AA Bronson, Tent of Healing, Stedelijk Museum, Amsterdam, 2013, Courtesy the artist and Esther Schipper, Berlin
Pause: AA Bronson's Garten der Lüste
25-29 April 18
Kunstwerke ICA as part of Gallery Week, 2018
curated by AA Bronson
Featuring AA Bronson / Collaborations with Adrian Hermanides, Mark Jan Krayenhoff van de Leur, Travis Meinolf, James Richards, and Scott Treleaven/ Performances with Spencer Carter, Michael Dudeck, Richard John Jones, Ebe Oke, and Chrysanne Stathacos / Additional works by Elijah Burgher, TM Davy, Sholem Krishtalka, Chrysanne Stathacos and introducing: JX Williams
AA Bronson's Garten der Lüste—a 5-day hybrid installation featuring performances and artworks—will inaugurate KW's second exhibition season of 2018 as part of its Pause series. Pause is envisioned as a platform to punctuate the program by presenting a singular installation for a short period of time in order to bridge relationships between the past, present and future.
AA Bronson (born 1946, Vancouver) is both artist and curator, subject and object. In this project, Bronson continues his practice of enfolding his community of artists within his own performances and artworks. The project takes Hieronymus Bosch's famous painting The Garden of Earthly Delights (circa 1500) as its starting point. To analyze Hieronymus Bosch's triptych is an attempt to describe the indescribable and to decipher the indecipherable—an exercise in madness. The project could be seen as a queer adaptation that executes this madness through various spirits and universes.
A pioneer of collaborative and queer visual art practice, AA Bronson is the sole surviving member of the art collective General Idea (1969–94). He has had a long history with political and social issues in art and publishing, and has collaborated with many generations of artists across many disciplines. He is a founder of FILE Magazine, Toronto; Art Metropole, Toronto; The NY Art Book Fair, New York; The Institute for Art, Religion and Social Justice, New York; and AA Bronson's School for Young Shamans, which is nomadic. In the last decades he has knitted elements from various religions into his work, from Tibetan Buddhism and Shamanism to Ceremonial Magic, and Santería.
LAPS Open Lecture: Sanctum by Michael Dudeck
Thursday, January 18, 2018 - 18:00 to 20:00
University of the Arts, Helsinki
Theatre Academy, Auditorio 1
Avoin luento
www.uniarts.fi/en/events/wed-03012018-1003/laps-open-lecture-sanctum-michael-dudeck
For the past ten years, Michael Dudeck's work as an artist, writer, and witchdoctor, has probed and excavated the role of ritual and religion in the age of information through an ongoing, interdisciplinary performance fiction called The Religion Virus. Methods of both Research and Practise have thus far included : live performance of stylized sacrificial and processional rites, the creation of fictional languages and scriptures, the composing and live performance of invented psalms, powerpoint sermons, museological installations housing artifacts and invented didactics, long durational vows of silence, live neomonastic illuminations, and the publication of three artist monographs, amongst others. Dudeck has performed, exhibited, screened and lectured in over twenty countries, undergone three years of fieldwork in the High Canadian Arctic, and was artist in residence for 1.5 years at America's oldest independent theological seminary. He is currently undergoing a PhD in Practise at Edinburgh College of Art where he is writing, performing, inscribing and illuminating a fictional bible as a live, durational artwork. Sanctum will explore these past ten years of Dudeck's research and practise through the lens of ritual performance, exploring the ways in which contemporary secular publics engage with queer ritual and performative appropriations of religious iconographies and neo-ceremonial positionalities.
Liber Meta 2.0 : The Infant God, as part of LAPSody 2017, University of the Arts Helsinki
May 24-27, 2017
11:00am-5:00pm
Taiceyliopiston Teatterikorkeakoulu -
Haapaniemenkatu 6, 00530 Helsinki, Finland.
http://lapsody2017.com/artists/
Liber Meta is a series of durational performances that have evolved out of Dudeck's queer interspecies mythological project The Religion Virus. Centering on select gospels within the Primate Bible that Dudeck is simultaneously inventing and inscribing, Dudeck initiates a performative process of live, durational illumination : transforming the gallery into a monastic queer temple, augmented with digital chants, Dudeck undergoes ceremonial illumination, inscribing onto parchment and papyrus the writings of the text accompanied by illuminations. The performative installation is a tableux-vivant, resurrecting Caravaggio's St. Jerome Writing in the Age of Information, and Dudeck, adorned with prosthetic breasts, wears a go-pro on his head, whose wires wrap down his arm and connect to a screen which projects the inscriptions and illuminations on a large scale for audience to see. For LAPSody 2017, Dudeck will illuminate live, 6 hours a day for three entire days.
THE RELIGION OF SPECIES
a Lecture/Performance by Michael Dudeck
as part of the Masters in Ecology and Performance Program,
University of the Arts, Helsinki
Monday, May 22, 2017,
Taideyliopiston Teatterikorkeakoulu - Konstuniversitetets Teaterhögskola
Haapaniemenkatu 6, 00530 Helsinki
When modern science began its rapid development in Europe's early modern period, it did so within the framework of a dominant Christian worldview. Scientific research was conceived as a religious task; it was both a means of understanding the wisdom of God manifest in Creation and a way to worship Him. Religion, particularly Judeo-Christian mythology, had hitherto accounted for the creation of "Man and Nature" by an omnipotent bodiless male deity, whilst Evolutionary theory was beginning to compete with Genesis as a foundational origin myth. As Evolutionary Theory evolved, one key differentiation was used repeatedly to "set us apart" from our simian ancestors : that is, and continues to be, our capacity to construct and produce abstract, symbolic images.
Humanity's "transcendence" from Primate to Sapien, in addition to being emblematic of White Pathology, also happens to follow a messianic principle central to all Judeo(Mosaic) / (Christ)ian texts : through our evolutionary advantages we arose from a religiosity subjugated by Nature to one that "subdues" and enslaves it, employing our biblically-sanctioned dominance over Nature and every other living thing as a "Chosen Species" fulfilling a myth of Evolutionary Deliverance.
The Religion of Species explores and excavates Evolution as a modern origin myth steeped within Judeo-Christian Messianic codes. Dudeck animates the material through the ritual insertion of artifacts and documents of his performative artistic practise (which itself remixes religious and evolutionary narratives to produce a hybrid queer origin myth for the Posthuman era) and through a number of case studies that illuminate key biblical/religious motifs embedded within the codes and annals of the Religion of Evolution.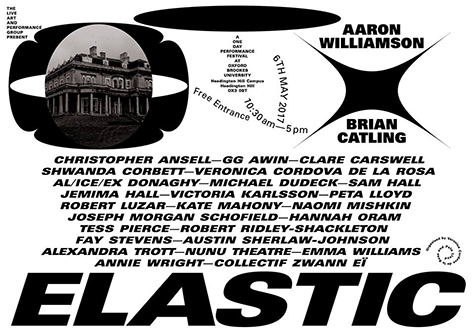 Liber Meta 1.0 as part of Live Art Performance Group's ELASTIC
May 6, 2017
10:30-5:00pm
Headington House, Oxford Brookes University
curated by Veronica Cordova dela Rosa and Peta Lloyd
Liber Meta is a durational ritual performance which marks the beginning of a three year project. The performance utilizes a new process I am calling "Neomedievalist Performative Illumination". I have spent the past 1.5 years writing the first "Holy Book" of my fictional interspecies queer religion, and it is my intent through the host of the Liber Meta performances to inscribe and illuminate a manuscript live over a series of durational performances.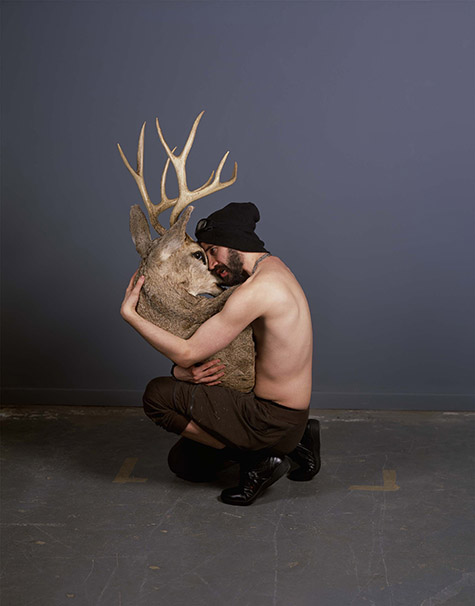 Evergon, "Witchdoctor, MD" (2014) inkjet print on archival paper, 50" x 40"
Michael Dudeck receives Manitoba Arts Council 2016 Major Arts Award
Michael Dudeck is one of four recipients of this year's prestigious Major Arts Award, which will be supporting the writing, illustration, design and printing of his fourth artist book, The Encyclopedia Messianica.
"For the past eight years my work as an artist, writer and cultural engineer has focused almost exclusively on the creation and dissemination of a queer religious prehistory (The Religion Virus). This has developed into a vast, neo-biblical mythopoeic construction. With the generous support from the Manitoba Arts Council Major Arts Grant, I will write, illuminate and print The Encyclopedia Messianica (Ecce Hominid), a 240 paged compendium illuminating a constructed historical timeline wherein several Simian-Messianic narratives intersect.
The publication will be produced by my fictional Museum of Artificial Histories, and will feature introductory essays and exegesis inserted and written by fictional museum staff. In addition, the publication will give birth to a lecture/performance series of the same name (Ecce Hominid) which when completed can be toured in galleries and museums to promote the publication and the upcoming trilogy of manuscripts."
THE RELIGION OF SPECIES
Research/Creation PhD through Concordia University's Individualised Program, 2016-2019
Combining research in Post-humanism, Queer Theory, Religious Studies and Evolutionary Theory with the writing/illustration of the first primate bible of The Religion Virus (Book One: The Messiah Complex) my research-creation PhD will begin Fall 2016 under the tutelage of Dr. Carly Daniel-Hughes (Religion) Dr. Anne Whitelaw (Fine Arts) and Dr. Jesse Arsenault (English). The research portion will examine the messianic and biblical foundations through which Evolution has become a global origin myth, whilst the creative portion will re-mix and animate evolutionary themes within a queer, net-biblical aesthetic. Throughout the process of transcription, I will perform a series of ritual-lecture-performances that hybridise ancient and contemporary tactics of oral storytelling with the advent of video, synthetic soundscores, vocal modulation, animation, and the ritual body augmented with media.
PROTO QUEER LANGUAGE COUNCIL
As part of THE RELIGION VIRUS, I am constructing multiple interspecies languages (telepathic and written/spoken) that exist within the fabrics of a sentient planet and a mythological queer paradigm. This presents an opportunity to experiment with utopic prototypes for new languages that do not utilize gender or sex as determinants. As part of this process, I am forming a QUEER LANGUAGE COUNCIL, a group of volunteer visionaries who would be willing to share ideas as to how queer language(s) could exist (philosophically and logistically) in ancient and contemporary contexts. As well, the narrative(s) I am writing will not utilise gender pronouns, and therefore I need to create new methods for writing that reflect this. This is a queer think-tank which will comprise of a virtual council, with the possibility of a conference/gathering sometime in 2017/2018. If you are interested and or able to participate in the council, please email with the subject line: PROTO QUEER LANGUAGE COUNCIL. Please give your name (or the name of an avatar) and a short bio (fictional or actual) to begin assembling the database. The Virtual Council should be included on my website as of Jan. 1, 2017.
3X0DU5
as part of Live Art Performance Series,
curated by Veronica Cordova,
University of Brookes, Oxford
Oxford, UK
Oct. 26, 2016, 12:00pm
In the midst of an ongoing curatorial meditation upon the nature of immigration, curator Veronica Cordova's Live Art Performance Series has invited contemporary performance makers who do not live in the country of their origins to produce original works reflecting on themes of geographic and social displacement.
Utilising the invented messianic narratives of The Religion Virus as a foundation, Dudeck will explore Exodus as one of the primal mythological/archetypal conditions of the "Hu-Man Story." Drawing from the Religion Virus' archives of images, video, audio and text from the past 8 years, the ritual/lecture/ performance endeavours to excavate the many themes of migration that inhabit the mythos he has disseminated and invented through the course of his own self-imposed, self-theorized exile.
PSALMS
as part of
The Artists : Visual Artists Concert and Sound Projects, 4th ed.
Zacheta National Gallery of Art, Warsaw, Poland curated by
Katarzyna Kolodziej, Magdalena Komornicka and Stanislaw Welbel
Oct. 15, 2016
As part of Sachet National Gallery of Art's 4th edition of THE ARTISTS (a curated evening of performance featuring the musical work of visual artists) Dudeck will premiere PSALMS: a 45-minute music-centered performance featuring the live performance of 13 invented psalms accompanied by a complex digital soundscore and projected video. The sound-score will beconstructed utilizing synthesizer and vocal recordings, and the video will sample hundreds of images (drawing, sculptural, performative) from the past 8 years of The Religion Virus, as well as transcriptions of the Psalms in English, my invented language of In'Sekht and Polish translations.
The synthesizer and vocal soundscore create a haunting, trance-inducing ritualistic atmosphere while the vocal modulation produces a variety of gendered voices : at times singular and others choral, from robot/cyborg to chanting monk to the digitised and multi-layered harmonies of Gregorian and Midieval chant.
Click here to see a video trailer of the performance.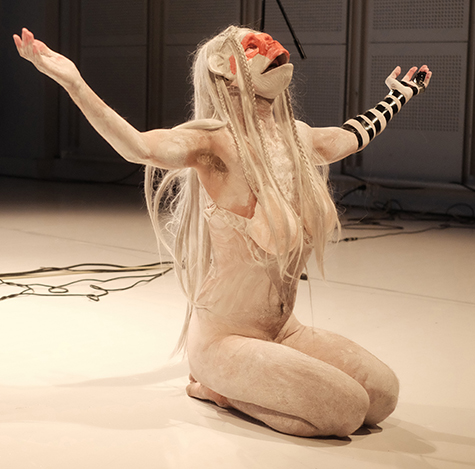 ECCE HOMINID 1.0
as part of Corpa Estrange : Da Artaud all Danza Butoh
(Strange Bodies : From Artaud to Butoh)
Fondazione Allega, Amelia, Italy, Oct. 8, 2016 6:30pm
(Conference dedicated in memory to Gioia Ottaviano)
www.fondazionealdega.org
At the culmination of an international conference exploring the relationship between Artaud and the avant-garde Japanese art-form Butoh, Dudeck will undergo a 25-minute ritual performance that reflects upon his early training in Butoh, merging the now "canonised" tradition of Butoh with his queer, neo-religious iconographic ceremonial performance work, augmented with vocal modulators and accompanied by re-mixed synthesiser-induced psalms.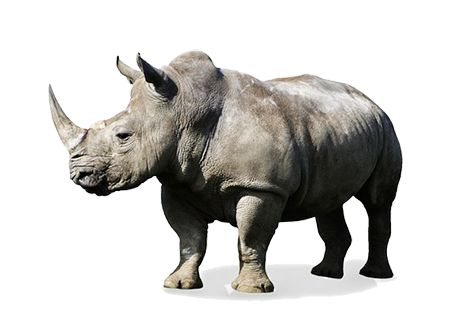 TACTICAL EXTINCTION
(lecture-performance)
as part of the 10th Audiovisual Arts Festival,
Ionian University [Corfu, Greece]
Taboo - Transgression -- Transcendence in Art and Science
May 20-22, 2016
http://avarts.ionio.gr/festival/2016/en/conference/description
The Last Male White Rhinocerous has been placed under 24 hour armed guard in Kenya, with hopes that he can inseminate before his passing, in spite of his rapid aging and decreasing sperm-count. His ivory horn has been removed (a sacrifice to the gods of capitalism) to make him less attractive to poachers, and strikingly compositional photoshoots featuring the "living artifact" guarded by armed soldiers, have spawned a media campaign summoning a congregation of sapiens to mourn yet another bloody ramification of Global Capitalism.
Almost all of the headlines code this specimen as "The Last of his kind" in accordance with Western exotic fantasies of extinction (The Last Unicorn, The Last of the Mohicans, The Last Airbender, The Last Samurai, The Last Emperor...) Those whom are affected are likely to be those who have most contributed to the conditions whereby extinction, mutation and annihilation of the "natural world" are daily commonplace realities. When there are abundance of one species the public remains indifferent, until the point of no return is reached. Global capitalism produces the poverty which necessitates poachers to slaughter and castrate endangered species, and simultaneously commodifies that extinction into a product, a "headline", a tear-jerker for the Western masses to unknowingly mourn the "inevitable" consequences of their priveleged existence.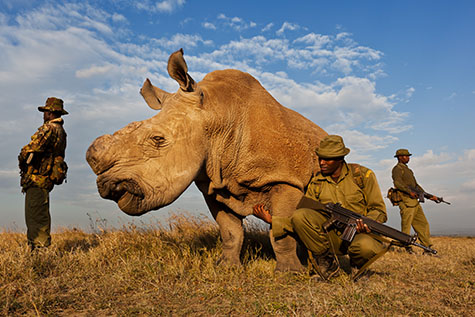 Sudan, the Last Male White Rhinoceros, under 24 hour guard in Kenya : Photograph: CB2/ZOB/Brent Stirton/National Geographic
"Discovery" is the first stage of Colonization : it implies that up until a thing or a being has been witnessed or documented by The West, it did not exist, and therefore cannot exist any longer as it once was. The act of encounter is itself colonial. Baudrillard asserts that "In order for ethnology to live, its object must die" and that "by dying, the object takes its revenge for being "discovered" and with its death defies the science that wants to grasp it" [Baudrillard 1988: 14]. This can be clearly articulated when examining the range of cultures that have been entirely eradicated from diseases spread by and upon contact. However the metaphor extends past ethnology into all interspecies relations.
Ontological Anarchist Hakim Bey describes a core concept he calls the TAZ (or Temporary Autonomous Zone) which is an experiential and spatial "uprising which does not engage directly with the State" but "liberates an area (of land, of time, of imagination) and then dissolves itself to re-form elwehere/elsewhen before the State can crush it" [Bey, 1985: 101]. He calls this capacity "the will to power as disappearance" [Bey, 1985: 128].
This paper/presentation will excavate an/other narrative of extinction: as a performance of autonomy, a declaration of sovereignty, a biological will to power, a refusal for a circus bear to perform for its captors : I will de-exoticize and construct a eulogy for a sacrificial act of symbolic suicide.
An excerpt of this paper was published in Link Editions Photodump (Issue 11, 2016) as part of A Collection of Trophy Images, and will contribute to a lecture/performance and publication of the same name produced by my fictional Museum of Artificial Histories.
A Collection of Trophy Images, ed. by Valeria Mancinelli, Chiara Nuzzi & Stefania Rispoli. Photodump, Issue #11 "In My Computer" 2016
Excerpt :
Symbolic Emergency : The Last Male White Rhinoceros is both a trophy on the rack of the Human Sovereignty Campaign, AND a living artifact in the collection of the Museum of Colonization. Extinction is perhaps Nature's ultimate performance of autonomy, its' will defying our contradictory desire to both massacre AND maintain it. These Symbolic Priests offer their lives to protect this bloody artifact, whose survival is secondary to the meaning we inscribe upon it.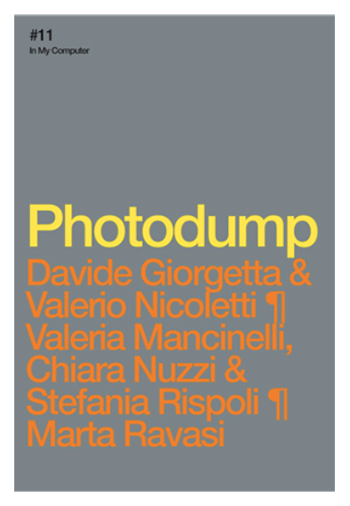 Photodump, Issue #11 "In My Computer" 2016, Link Editions. Download free e-book : http://linkeditions.tumblr.com/photodump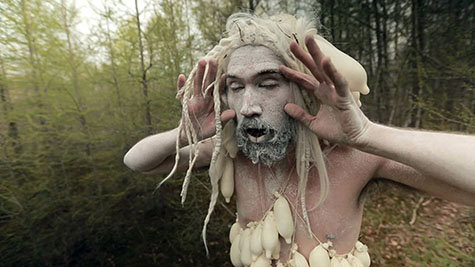 WITCHDOCTOR / MICHAEL DUDECK
VIDEO WORKS 2005 – 2015
8:00pm, Saturday, Nov. 14, 2015
Zacheta National Gallery of Art, Warsaw, Poland
as part of POMADA Queer Arts Festival
http://pomada.info.pl
http://archiwalna.zacheta.art.pl/en/article/view/2782/witchdoctor-pomada-6-screening-of-michael-dudeck-s-video-works
Michael Dudeck is an artist, witchdoctor, and cultural engineer. For the past decade his work has explored queer shamanism, religion and artificial institutions through performance, video, installation, writing, drawing, sculpture and sound. This non-chronological selection of video works from 2005 – 2015 illustrates Dudeck's shapeshifting across a range of postures and perspectives all centring around themes of queerness, ritual, healing and religion.
WITCHDOCTOR
POKAZ PRAC WIDEO MICHAELA DUDECKA Z LAT 2005–2015
Michael Dudeck jest artystą-szamanem. Przez ostatnią dekadę w swoich pracach performatywnych, video, instalacjach, tekstach, rysunkach i rzeźbach zgłębia zagadnienia queerowego szamanizmu, religii i instytucji. Niechronologiczny wybór jego filmów z lat 2005-2015 obrazuje rozwój perspektyw i postaw Dudecka skupionych wokół queerowości, rytuałów, uzdrawiania i religii.
Zachęta Narodowa Galeria Sztuki / sala kinowa
wstęp wolny
List of Works:
The Genesis Complex (2013) directed by Kaoru Ryan Klatt, featuring Michael Dudeck (7:34)
Temenos I (2005) Michael Dudeck (2:26)
Plunge of the Dreamherder (2006) Michael Dudeck (2:30)
Cathexis (2010) Performance Documentation, Michael Dudeck (7:55)
Psalms (2012) directed by Kaoru Ryan Klatt, featuring Michael Dudeck (8:48)
Totem und Tabu (2014) directed by Pascal Lievre, featuring Michael Dudeck (10:18)
Skywalkers (2015) Michael Dudeck, found footage (3:54)
Michael Dudeck performs Fish M/Other (Ape Witch) the third and final iteration of the Fish Cycle Tryptich as part of AA Bronson's Sacre du Printemps, at Grazer Kunstverein [Graz, Austria] Sept. 26, 2015
AA Bronson's Sacre du Printemps
26 September – 29 November 2015
Opening: Saturday 26 September, 12.30 p.m.
Featuring AA Bronson with Igshaan Adams, Keith Boadwee, Ryan Brewer, Elijah Burgher, Nicolaus Chaffin, Michael Dudeck, K8 Hardy, Matthias Herrmann, Reima Hirvonen, Yeonjune Jung, Mark Jan Krayenhoff van de Leur, Chrysanne Stathacos, Scott Treleaven and JX Williams.
AA Bronson and Ryan Brewer, 'Blue' (detail), 2011
Duratrans transparency in lightbox, 180 x 240 cm
Courtesy: Esther Schipper, Berlin
The Grazer Kunstverein's continuous investigation into notions of social abstraction is carried further in response to the new 'Leitmotiv' of the steirischer herbst 2015, which investigates the notion of 'inheritance' by starting out from questions of property, transfer of knowledge and our handling of cultural heritage.
In collaboration with the Salzburger Kunstverein, Grazer Kunstverein has invited artist and healer AA Bronson (b. 1946, Vancouver, CA) to develop a large-scale project at both venues simultaneously. AA Bronson operates in this hybrid project as artist and curator, subject and object, in which he includes his solo work, his collaborations with younger artists and works by friends. As a founding (and only surviving member) of the collective General Idea (1969–1994), AA Bronson has had a long history with political and social issues in art and publishing, and especially with the AIDS crisis. Since then he has collaborated with many generations of artists across many disciplines. In the last fifteen years he has taken on spirituality as a key theme in his collaborations and art production.
At the Grazer Kunstverein, Stravinsky and Nijinsky's infamously scandalous ballet of 1913 gives name to this sequence of rites and sacrifices, overseen by sage elders, here given form in the person of AA Bronson himself. Themes of spirit, sex and darkness are knit into a labyrinth structure that takes over all the gallery spaces.
An oversized mandala of rose petals by Chrysanne Stathacos opens the exhibition and functions as a twin to a similar installation at the Salzburger Kunstverein. The artist installs the work during the opening while conversing with the public. The mandala is framed by a work of Yeonjune Jung. Jung's What a Beautiful World! is a wallpaper installation, which depicts sites of gay trauma in London.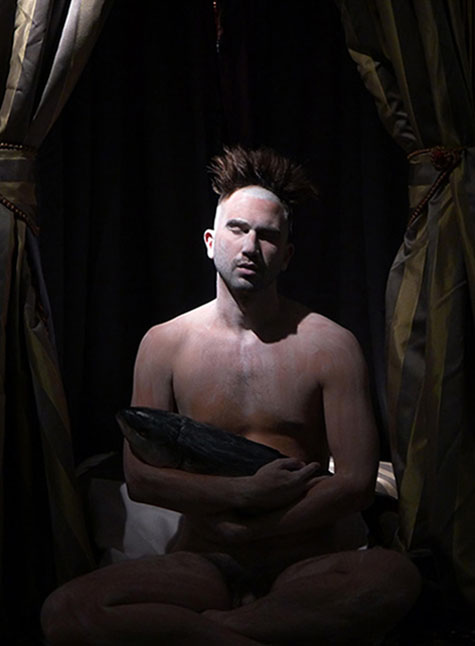 Michael Dudeck, FISH M/OTHER RE-MIX, 2013
© Matthias Herrmann
In the first of a series of galleries, AA Bronson and Scott Treleaven present Cabine, a tent that is at once changing cabin on the Lido, private booth in a gay sauna, and a fortuneteller's carnival booth. During the opening, Michael Dudeck will perform an intense durational work based on ritual Hebrew text within the tent structure. Sharing the gallery is Ashes to Ashes, the remains of a performance by Nicolaus Chaffin and AA Bronson invoking the spirits of the dead in Fire Island's Magic Forest, where countless men who died of AIDS have had their ashes spread. Blue by AA Bronson and Ryan Brewer underlines this notion of invocation by depicting spirits that wonder the forest.
The galleries that follow reflect on ritual through the work of Elijah Burgher, who has constructed a ritual space of paintings of magical sigils, and the work of Igshaan Adams, who chants inside a labyrinth of veils. The portraits of burning penises and a publication inspired by a dancer's jockstrap, both by Matthias Herrmann, a custom-made jockstrap of ribbon by Mark Jan Krayenhoff van de Leur, and K8 Hardy's Untitled (Jockstrap Dress) each reflect on the notion of the jockstrap as a cultural queer reliquary, rather than faux athletic aid. The exhibition-within-the-exhibition, Queer Zines, brings together more than 150 independently published queer magazines from the 1970s to today. Other works by Reima Hirvonen, JX Williams and AA Bronson complete the selection.
Each of these works tells a piece of a story, a history, and together they become a pagan romance, a series of rites, a sacrifice, and a gathering of sage elders.
Salzburger Kunstverein presents:
AA Bronson's Garden of Earthly Delights
19 September – 22 November 2015
Featuring AA Bronson with Chrysanne Stathacos, Mark Jan Krayenhoff van de Leur, Keith Boadwee, Adrian Hermanides, Matthias Herrmann, Gareth Long, Ebe Oke and JX Williams.
At the Salzburger Kunstverein, AA Bronson presents a meditation on the spiritual, the erotic and the shadow, each an aspect of the other. The exhibition is a queer reflection on Hieronymous Bosch's triptych of the same name, painted circa 1500, here married with Japan's famous Zen garden of Ryoanji, constructed in 1499. Both works – the painted garden and the rock garden – offer us a vision of the spiritual as a constructed universe: they are each a queer universe held within dramatized limits, like a gay bar or a drag club.

ARTIFICIAL INTELLIGENCE 1.0 (Ritual/Lecture/Performance)
As part of LAPSody 2015 : Emergent, Emergence, Emergency
5th International Festival and Conference of Live Art and Performance Studies
University of the Arts, Helsinki [Helsinki, Finland]
curated by Diana Soria Hernández, David Frankovich, Vili Nissinen and Hannah Gullichsen
May 27 – 30, 2015
lapsody.tumblr.com
Since the advent of Empire, Dominant Ideologies canonize and authorize, on behalf and for their publics, what information is "real" and what is "artificial". These Systemic Alchemists craft selected mythologies into Histories, inscribing upon these selected stories "the aura of factuality" and inscribing upon their publics a pre-Authorized selection of knowledge.
ARTIFICIAL INTELLIGENCE is a series of ritual lecture performances, produced by the imaginary institution, The Museum of Artificial Histories, which proposes a series of interventions into Grand Narratives by pluralizing, queering and complicating the process of History. This radical new Museology is performed in a symphony of ceremonial techno-lectures, hybridizing images, videos, diagrams and texts sampled from Pop Culture, Ancient Religion, Freudian Psychoanalysis, Archaeology, QueerTheory and Anthropology, resulting in a trance-inducing Powerpoint Sermon. Shapeshifting between human and primate, prophet and prostitute, animal and machine, I re-mix information and history in a stylized ritual that is hypnotic, immersive and disturbing.
The first version of ARTIFICIAL INTELLIGENCE (1.0) will be performed as part of LAPSody 2015, International Conference on Theater and Performance at University of Helsinki, Finland in May. Subsequent versions will follow over the course of 2015–2016. Contact if you are interested in hosting one of the versions.
THE ARTIFICIAL MOTHER 1.0
curated by Valeria Mancinelli
S.a.L.E Docks [Signs and Lyric Emporium]
PERFORMANCE POSTPONED to SUMMER/FALL 2015, Date/Time TBA
Dorsoduro 265, [Venice, Italy]
www.saledocks.org
PROGRESS: Jordan Tannahill on

THE

MESSIAH

COMPLEX 5.0
THE

MESSIAH

COMPLEX 5.0

Curated by Videofag
As part of Progress Festival, Toronto, 2015
Thursday, Feb. 5, 9:00pm
The Theatre Centre
1115 Queen St. West, Toronto, Canada
Website and Festival Trailer : http://thisisprogress.ca

In 1932, American Psychologist Harry Harlow founded a Primate Laboratory at the University of Wisconsin-Madison, and created the first monkey breeding colony in the United States. Using a large population of newly born rhesus monkeys as subjects, Dr. Harlow studied infant relationships by replacing their mothers with artificial surrogates, made of cloth and wire.

The Messiah Complex 5.0 utilizes the Harlow experiments as a point of departure to explore concepts of religious evolution. The first segment, The Artificial Mother, excavates the trajectory from idolatry to monotheism – using Harlow's 'Cloth Mother' as a metaphor to explain the religious motivation for visual and tactile iconographies. The second segment, The Messiah Complex, unearths the mythological matrix of the messianic, involving themes of conception, birth, orphan upbringing, spiritual trials and tests all aligned with the trajectory of Harlow's primate test subjects.

The Messiah Complex 5.0 constructs a symphony of ceremonial techno- lectures hybridizing images, videos, diagrams and texts sampled from Pop Culture, Ancient Religion, Freudian Psychoanalysis, Archaeology, Queer Theory and Anthropology producing a trance-inducing Powerpoint-Sermon. Shapeshifting between human and primate, prophet and prostitute, animal and machine, Dudeck re-mixes information and histories in a stylized ritual that is hypnotic, immersive, and disturbing.

The Messiah Complex 5.0 is produced by an imaginary institution, The Museum of Artificial Histories, which appropriates aesthetic strategies utilized by Dominant Knowledge Industries to excavate the mechanisms used to design and disseminate Grand Narratives.

The performance is approximately 1 hour in duration, and contains nudity.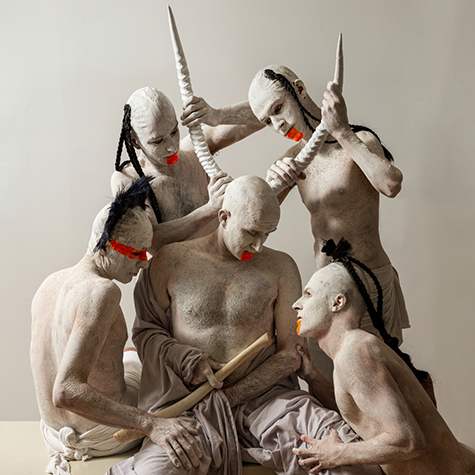 THE

MESSIAH

COMPLEX 2:0 – 5:0

THE MESSIAH COMPLEX 2.0 is a feature-length durational lecture/performance that explores religious concepts of origin from a queer/feminist perspective. Performing as a transgendered, cyborg priest, with elaborately painted body, prosthetic breasts, an extended serpentine phallus, elaborate wire-headdress and accompanying vocal modulator (which modifies the pitch of the voice blurring concepts of gender, human and machine) Dudeck will lecture using a series of images, videos, diagrams and texts, whilst also undergoing invented techno-ceremonies, and periodically reciting PSALMS from his invented religion. Each performance/iteration takes place in a radically different environment, featuring altogether different materials alongside of the core project. The performance is offered in English but also contains aspects of Dudeck's invented language Insect.

Utilizing Merlin Donald's three stages of cultural evolution (mimetic culture (arising early in human evolutionary history), mythic culture (arising soon after the invention of language), and theoretic culture (taking shape only as late as the Enlightenment) the performance organizes a significant swath of information into three segments :

I) The Arficial Mother / Mimetic (40 minutes)
II) The Religion Virus / Mythic (20 minutes)
III) Hypostasis of the Archons / Theoretic (30 minutes)

THEMESSIAHCOMPLEX 2.0
Presented as part of The Venice Experimental Cinema and Performance Art Festival
Curated by Luca Curci
Aug. 31, 2014 6pm
Palazzo Palazzo Ca' Zanardi, Cannaregio Venice, Italy
www.itsliquid.com/opening-venice-cinema-performance-festival.html

THEMESSIAHCOMPLEX 3.0
Presented by The Brucebo Foundation
Curated by Susanna Carlsen
Sept. 27, 2014, 7pm
Konstnärshemmet Brucebo, Brucebo, Själsövägen 5 622 76 Visby
brucebostiftelsen.wix.com/brucebo

THEMESSIAHCOMPLEX 5.0
Presented as part of the inaugural PROGRESS Festival
Curated by Videofag
February, 2014
Videofag, Toronto, www.videofag.com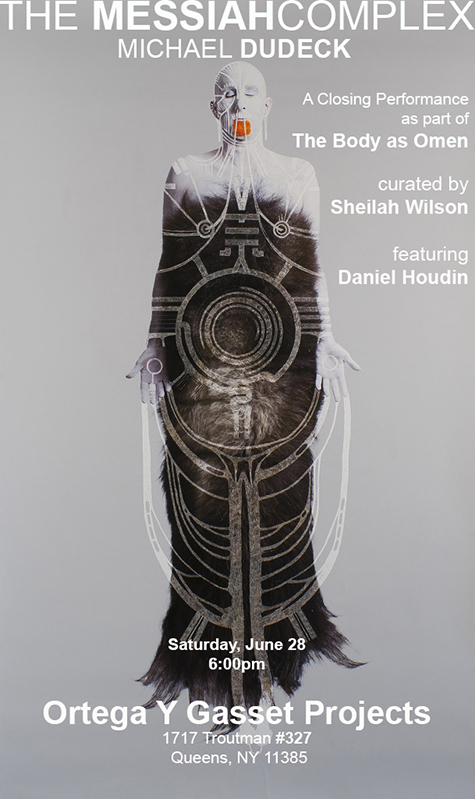 BODY AS OMEN
Ryder Cooley, Michael Dudeck, Frank Haines, Maria Hupfield, Rachel Mason, Baker Overstreet, Geo Wyeth and the Institute for New Feeling. Organized by Sheilah Wilson
May 31 – June 28, 2014
17-17 Troutman St. #327, Queens, NY
Ortega y Gasset Projects is pleased to present Body as Omen, an exhibition organized by Sheilah Wilson, featuring new performances by Ryder Cooley, Frank Haines, Maria Hupfield, Rachel Mason, Baker Overstreet, Geo Wyeth and the Institute for New Feeling. Body as Omen explores the possibility of body as portal between environments and altered states of being.
Body as Omen acknowledges the multiple ways in which the body can be articulated as a proposal. Each artist addresses the intertwining of both transcendence and unequivocal placement within the body. Perhaps the belief that there is some way of creating a vessel within the vessel is absurd, doomed to fail. Or perhaps there is no gesture that holds vulnerability and agency together as clearly as the body performing. Body as Omen proposes the articulation of present tense desiring future, but always existing as the moment that has been -- a hinge between performance, body and desire. We know our ships are riddled with holes. Artists will be creating a new work that investigates the potential of invocation, reversal, and channeling as as tactics towards transcendence of a body reveling in the fact that it is trapped within itself.
Ryder Cooley examines human-animal relations, hybridity and extinction. Her recent collaborations have been with a disembodied taxidermy sheep, named Hazel.
Maria Hupfield locates the body as a site of resistance and agency through the use of actions, objects and images. Her new project, Ghost Trophy, comprises video projection (by Maria Hupfield & Jason Lujan) and live performance. She activates the space of a lavish historical interior using handmade items, one of which is a vest featuring crystals recovered from a chandelier.
Rachel Mason uses voice and songwriting as tools to mold worlds around herself. She inhabits various alter-ego personalities, including: FutureClown, an internet-based clown who attempts to span both physical and virtual space simultaneously, The Terrestrial Being, a starseed trapped inside of a motorcycle helmet who performs superhuman feats, and The White Oracle, who performs rituals from lost ancient civilizations. Mason will be performing the character of the White Oracle while simultaneously creating a live soundtrack.
Baker Overstreet revisits his character "June" and how the character's physicality interferes with sets and props of his own making. In a self proclaimed "trunkshow" Overstreet employs, and sometimes reacts against, our preconceived ideas of archetypes -- such as the prankster, the magician, the Broadway belter, and the tramp, asking the viewer to question the difference between laughing at and laughing with a performer.
Frank Haines will be performing as Blanko+Noiry, with Reuben Lorch-Miller and Chris Kachulis. Blanko + Noiry is a multi-generational performance collaborative that has been performing in New York City since 2007. These performances are based on mutual interests in ritual, vaudeville, show tunes, psychodrama, Viennese Actionists and experimental electronicmusic.
Geo Wyeth performs spontaneous response to situation, often incorporating DIY instruments and an irreverent theatricality of struggle.
Michael Dudeck creates mythological, religious fictions and animates them through ritual mediatic performance. Transforming the gallery into a temporary cyborg temple, he will mummify a fictive prophet in durational ceremony, quite literally trapping the body within itself. Binding the body/figure shape shifts subject into object, exposing/exploring ancient themes of idolatry while constructing a new, queer iconography.
A special performance by The Institute for New Feeling will follow the series, wherein they will initiate a new research study--an interactive installation that engages bodies moving through the gallery.
Invocations and reversals will be performed over a period of three days. Objects from the performances will be catalogued and displayed. A publication will accompany the show.
Saturday May 31
1:30pm Maria Hupfield
3:30pm Ryder Cooley
5pm Blanko + Noiry
6pm Baker Overstreet
Sunday June 1
3pm Geo Wyeth
5pm Rachel Mason
Institute for New Feeling project will run from June 7 – 28, 2014
Saturday June 28
6pm Michael Dudeck
7pm Blanko + Noiry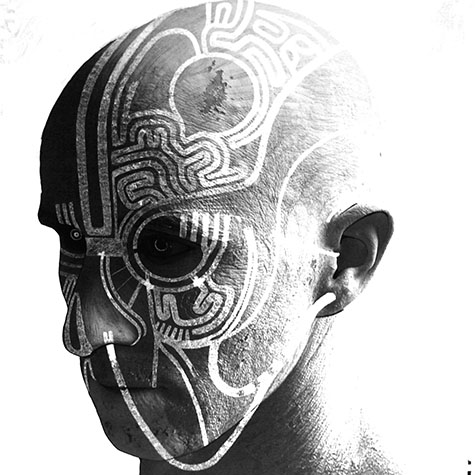 Queering Genesis through Punc Arkaeology
A museological exhibition by Canadian artist Michael Dudeck and designer Isabella Bruno.
Freeman Space
155 Freeman Street, Brooklyn, NY
May 2 – May 4, 2014
10am – 8pm
Opening: May 2, 7pm
Freeman Space is proud to present its inaugural exhibition, Queering Genesis through Punc Arkaeology. The exhibition represents a new direction for shamanistic artist, Michael Dudeck, after a collaborative residency with designer, Isabella Bruno. More than merely displaying art, the collaboration explores how the exhibition form—its language, visitor participation and design—becomes a valuable tool for an artist to continue the creative process. With this exhibition, Dudeck and Bruno question objects' identity, and therefore, challenge the exhibition as authority. "In the museum, information is presented as fact, even though often it is not," says artist, Michael Dudeck. Dudeck's methodology of Punc Arkaeology creates a framework for viewing objects in new ways. "Punc Arkæology is the term for Dudeck's effort to move beyond such literal definitions, to dig deeper into what we expect and desire from objects in our lives, and to create works of art that get viewers to think about what is materialized and left unmaterialized," says Daniel Larkin of Hyperallergic. Dudeck starts from the beginning of narrative–our Western story of creation–questioning assumptions about gender, desire, and the identity of G-d. Guided by the exhibition, we are opened slowly to alternate viewings of the creation of Man. Using Dudeck's arsenal of performance, drawing, sculpture, photography, and academic research, we are invited to a new experience of viewing these mediums, and therefore, a queering of the Museum itself. The audience completes the exhibition by participating in Punc Arkaeology, through an invitation to interact with curated objects and to make their own artworks.
About the collaborators
Isabella Bruno creates pop-up exhibitions soup-to-nuts. Her mission is to bring amazing, educational, joyfilled, interactive experiences to the general public. She curates exhibition subject matter that is hyperlocal, timely, and relevant to the neighboring community. www.bruno-design.com
About the presenter
Freeman Space is an intimate space for work and play in Greenpoint, Brooklyn. Our mission is to foster big engagement in a small space through unique topics under the umbrellas of art, culture and social science. We believe that more can be done with less. www.freemanspace.tumblr.com
PUNC ARKÆOLOGY: QUEERING CARTOGRAPHIES
A lecture/performance commissioned by The Institute for Art, Religion, and Social Justice and convened by Artist-in-Residence Michael Dudeck.
On April 8th, 2014, in the Chapel of Union Theological Seminary, artist/cultural engineer Michael Dudeck will undergo a lecture/performance unearthing a range of ancient and contemporary artifacts in a ceremonial excavation of themes. Dudeck will perform queer cartographies by bridging the theological and the contemporary in a mediatic sermon that is both ambiguous and stylistic. Dudeck will construct a live collage of themes ranging from idolatry and mass media to Compulsory Heterosexuality in Eden to the flammability of the Religious Empire and the migration patterns of Faith. Part biographical, part curatorial, part archaeological, PUNC ARKÆOLOGY : QUEERING CARTOGRAPHIES will queer the modality of the lecture by challenging the precincts of Authorized Knowledge and Fiction.
6 Students from Dr. Brigitte Kahl's Reading Ancient Sources and Images Class will also premiere the resurrection of an inactive UTS artifact through conceptual mediatic intervention. Presented in relation to Dudeck's excavation, the artifact will be ritually re-imagined and positioned in the ritual laboratory invoked by the lecture/performance.
Event details:
Tuesday, April 8, 8pm
James Memorial Chapel
Union Theological Seminary
3041 Broadway
New York, NY
WINTER 2014
THE

GENESIS

COMPLEX

A Ritual Laboratory Dissecting Myths of Human Sexuality
Friday, February 14, 2014. GLASSHOUSE 246 Union Ave., Brooklyn, New York City
Doors Open at 7:00pm, Performance 8:00 – 10:00pm

The Myth of Adam, Eve and the Serpent is arguably the most influential origin myth of the Western world, setting the stage not only for the development of the three monotheistic religions, but also for patriarchy and its offspring, homophobia. Though the story is set in a time and cultural context that is irreparably different than our own, dominant ideologies have utilized it as a mascot for the heterosexual matrix.

THEGENESISCOMPLEX is a durational participatory performance/ritual laboratory wherein myths of human sexuality are excavated, disassembled and reconstructed through queer ritual.

The Institute for Art, Religion, and Social Justice announces Michael Dudeck as artist in residence for Spring 2013
The Institute for Art, Religion, and Social Justice has invited Michael Dudeck as an artist-in-residence for the Winter/Spring semester.
As an artist and witchdoctor Dudeck has performed and exhibited nationally and internationally including John Connelly Presents, The Watermill Center, Center for Performance Research + Parade Ground [New York], The Winnipeg Art Gallery, Ace Art, Platform Center + Plug in ICA [Winnipeg], Pari Nadimi Gallery [Toronto], DeFibrillator [Chicago], The Glasshouse [Tel Aviv], Witte de With [Rotterdam,] The Insel Hombroich [Neuss, Germany] and The Brucebo Museum [Visby, Sweden] among others.
Dudeck is currently undertaking research for his new project THEGENESISCOMPLEX, which excavates the Eden myth through an act of queer, performative re-mixing. He will work closely with Dr. Brigitte Kahl [Professor of New Testament] and AA Bronson [Honorary Professor of Art, Religion and Social Justice].
Artists Statement About Institute Residency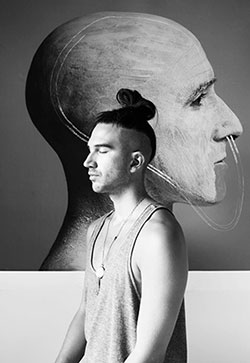 "I have been developing a methodology I am calling Punc Arkaeology which excavates mythological and religious images and texts for queer ghosts, which I then transform within my queer mythology into new hybrid archetypes. I am particularly interested in accessing the databases of Union's Library on material concerning "Popular Religion" in Ancient Israel and Judah, in particular the worship of the Canaanite goddess Asherah and the marginal, non-normative positioning [s/he] occupies. Working closely with Dr Brigitte Kahl and incorporating her method of "critical re-examination" whilst working creatively and strategically with AA Bronson will be of great benefit to my project of queering Religion."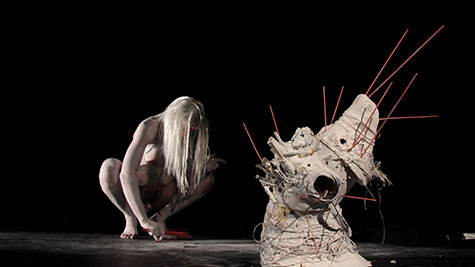 THUS SPAKE AMMA SYNCLETICA
Thursday January 16, 2014, NEUTRAL GROUND GALLERY
as part of Performatorium, Festival of Queer Performance
January 15 – 18, 2014, Regina, Saskatchewan, curated by Gary Varro
Thus Spake Amma Syncletica is a live ritual/performance from Dudeck's invented religion and prehistory. Merging synthesizer and live vocal modulation with tactics of tableaux and durational performance, Dudeck will undergo a ceremonial recitation of psalms and texts in English and his invented language[s]. In his attempt to marry the queer and the sacred, the transmission of the texts will range from coherent/literal to obscure and purely auditory. The ceremony will be punctuated by a series of ritual gestures, involving audience participation and the opportunity for reading along with the exegesis contained in his biblical artist book, RELIGION.
MICHAEL DUDECK WITCHDOCTOR
THE GENESIS COMPLEX
a FILM by Kaoru Ryan Klatt
SUMMER / FALL 2013

MICHAEL DUDECK WITCHDOCTOR's [Religion Project] moves into its fifth season in 2013. After completing a year of research in Religion, Queer Theory and Anthropology as part of an Individualized Masters Program at Concordia University, Dudeck resumes his strategic nomadism, delving further than ever before into the sphere of cultural codes. The 2013/2014 Season features a number of new projects and collaborative works exploring the correlation between queerness and holy office, including : a 5-week collaborative project working with Beluga Whales in the Canadian Subarctic, the launch of PUNC [ARK]AEOLOGY : The Theoretical Wing of the [Religion Project], a Museological Pilgrimage to strategic locations in Europe analyzing representations of gender variance and shamanism in the construction of Natural History, and Shaman-in-Residence at Union Theological Seminary's Institute for Art Religion and Social Justice in New York City. For more detailed project descriptions please scroll down, and if you are interested in hosting PUNC[ARK]AEOLOGY Information Sessions in 2014/2015 please contact : .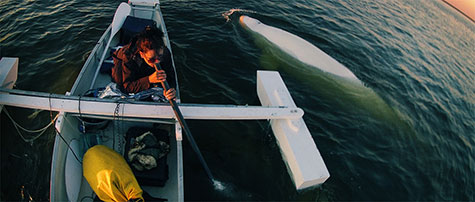 ∧ Artist Laura Magnusson performing sound experiments with Beluga Whales in Churchill, Manitoba
Becoming Beluga
in collaboration with WHALE: Kauro Ryan Klatt + Laura Magnusson
Churchill, Manitoba July 9 – Aug. 24 2013 www.becomingbeluga.com
WHALE is an interdisciplinary group comprised of artists Kaoru Ryan Klatt and Laura Magnusson, with a vision to expand art past human borders to non-human beings. Since 2011, they have been traveling to the northern edge of Manitoba to collaborate with thousands of beluga whales through sonic exchange. Becoming Beluga is the culmination of three years of integrated arts activities with these whales, taking the form of a saturated seventy-five day art expedition on the Churchill River from July 2 to September 14, 2013.
MICHAEL DUDECK WITCHDOCTOR joins Becoming Beluga in Churchill from July 9 to August 15, 2013, shapeshifting between performance artist, resident shaman, social engineer, critical analyst, and reporter. Beyond influencing the overall shape and direction of the art expedition, his artistic activities include developing and executing an original work for the performance series, contributing to the film as a core member of the cast and crew, facilitating interviews and generating written content, and serving as a reporter for the weekly video updates. In addition he will construct a text work as part of his new PUNC ARKAEOLOGY project entitled : Queering Beluga.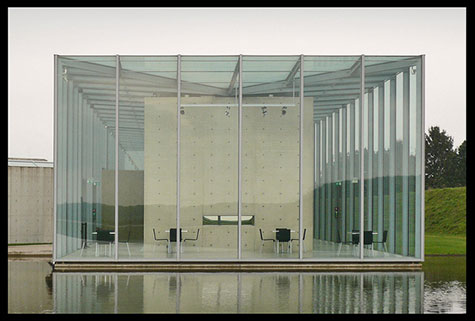 Siftung Insel Hombroich International Summer Fellowship Program
curated by Elke Luyten www.inselhombroich.de
Neuss, Germany Aug. 24 – Sept. 3, 2013
Download brochure
MICHAEL DUDEK WITCHDOCTOR received the Hombroich Summer Fellowship to participate in an international residency program, curated by Elke Luyten, in Germany. There he will be developing his upcoming performance project THUS SPAKE AMMA SYNCLETICA. Other artists include : Amanda Coogin, Biba Bell, Jenn Rosenblit, Julia Von Lilewa, Kira Alker/Elke Luyten, Malou Swinnen, Patrick Kennelly, Rebecca Davis, Sasa Asentic, Sherry Dobbin and Ursula Achternkamp.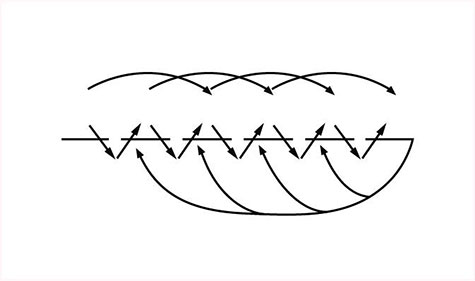 ∧ Gareth Long, A More Precise Distance Between the Reader and the Ultimate Visions (2013)
The Temptation of AA Bronson
FISH M/OTHER REMIX
[Performance in collaboration with AA Bronson and Scott Treleaven's Cabine]
Rotterdam, the Netherlands Witte de With Center for Contemporary Art
Sept. 5, 2013
AA Bronson (b. 1946, Vancouver) is both artist and curator, subject and object, in this hybrid project that includes his recent solo work, his collaborations with younger artists, and works by friends, both queer and not. Also included are two of his curatorial projects: Queer Zines, incorporating more than 100 queer zines from the punk era until today; and Ancestors, a personal archive of books, editions, and ephemera that form a fragmentary and incoherent historical underpinning to the overall project.
During the opening, 'The Temptation of AA Bronson' will be baptized with a confusion of simultaneous and continuous performances by Chrysanne Stathacos, Michael Dudeck, Nils Bech, and Sands Murray-Wassink.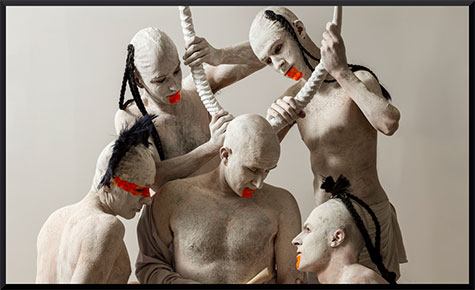 ∧ excerpt from The Crowning with Horns, 80" X 80" inkjet print on rag paper, 2013
SHRINES
Museological Pilgrimage, The Brucebo Foundation European Travel Scholarship
Multiple Locations in Europe : Sept. 6 – Oct. 21, 2013
MICHAEL DUDECK WITCHDOCTOR is the 2013 recipient of the William Blair Bruce European Travel Scholarship, which annually funds one Canadian artist to undertake a thematic study tour across Europe. SHRINES is a museological pilgrimage, exploring the museum-as-temple, and collections-as-canons. The culmination of the journey involves a lecture/performance to be delivered in Visby, on the Isle of Gotland, in mid-October 2013.
RELIGION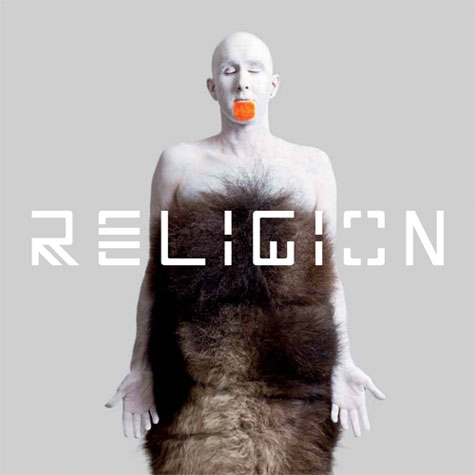 Michael Dudeck, RELIGION, self-published artist book, 8" X 8", 80 pages, 2012
WINNIPEG NOW
Sept. 29, 2012 – Dec. 30, 2012
The Winnipeg Art Gallery
Michael Dudeck is one of 13 artists featured in the Winnipeg Art Gallery's banner exhibition Winnipeg Now, opening Sept. 29, 2012.
Celebrating its 100th anniversary in 2012, the Winnipeg Art Gallery (WAG) is Canada's oldest civic art gallery and one of the country's largest. The WAG is planning a milestone year of celebrations of art, programs, and special events from September 2012 through August 2013. It all kicks off on September 29, 2012 with the contemporary exhibition Winnipeg Now, featuring thirteen of Winnipeg's hottest and brightest artists currently shining on the national and international art scene.
For Winnipeg Now, Michael Dudeck will be presenting The Baculum Cosmogony, a museological installation which functions as the 7th instalment of [The Religion Project] he has been developing over the past three years. The installation incorporates sculpture and works on paper. The exhibition will also launch Dudeck's second self-published artist book RELIGION, featuring text and images from the last three years of [The Religion Project]. The opening night of the exhibition on Nuit Blanche also features the presentation of Dudeck's latest performance work EXEGESIS, wherein Dudeck will perform psalms he has invented as part of his queer religious prehistory. Lyrics of the Psalms can be found in the final section of Dudeck's artist book, which will be on sale during the opening.
SCHEDULE OF WINNIPEG NOW EVENTS
Friday, Sept. 21, 8:00pm
10 X 20 X 20, in The Muriel Richardson Auditorium at The Winnipeg Art Gallery
Michael Dudeck along with 9 other presenters will participate in 10 X 20 X 20 (10 presenters; 20 images; 20 seconds per image, 6 minutes 40 seconds total)
Saturday, Sept. 29th, 8:00pm
Winnipeg Now Artist Panel # 1, in The Muriel Richardson Auditorium at The Winnipeg Art Gallery
Michael Dudeck, Sarah Anne Johnson, Paul Butler and Guy Maddin in conversation with Winnipeg Now curator Robert Enright, introduced by curator Meeka Walsh, editor of Border Crossings magazine
Saturday, Sept. 29th, 11:00pm
EXEGESIS, in The Muriel Richardson Auditorium at The Winnipeg Art Gallery
Michael Dudeck's performance of PSALMS from his invented mythology and religion
For more information :
Winnipeg Now
10 X 20 X 20
Winnipeg Now Artist Panel #1
Michael Dudeck featured in UP & COMING MAGAZINE
"Baaadass Berdache," UP & COMING MAGAZINE, Volume 2, article by Noam Gonick
MICHAEL DUDECK WITCHDOCTOR interviewed by Barbara Isherwood on ArtSync TV
http://www.artsync.ca/interview-michael-dudeck/
MESSIAH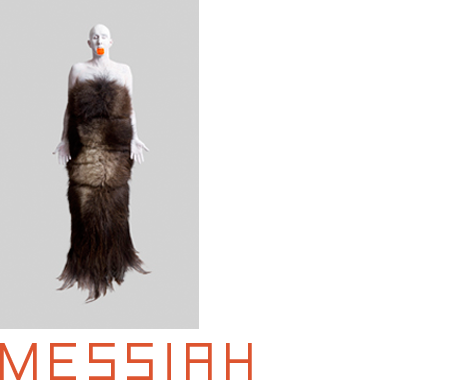 Thursday, Feb. 9, Pari Nadimi Gallery, 254 Niagara St. Toronto, 5 – 8pm
MESSIAH is Michael Dudeck's second solo exhibition at Pari Nadimi Gallery, and centers around a fictive prophet in an elaborate queer mythology Dudeck has spent the last 3 years developing. Focusing on the moment of Death of the Prophet, Dudeck explores the loss of subjectivity involved in being iconic. The Messianic figure must accept the projections of it's public and correspond to, or retaliate against the invention that accompanies his/her own existence. MESSIAH explores the propaganda, the consecration and ceremonial aftermath of the life of the messianic figure through the lens of a queer science-fiction/fantasy blurring prehistory and futurity in a hybrid museological installation.
The exhibition includes large-scale photographic prints on ragpaper, which Dudeck has carved into, maimed, and painted over, a stylized video of the prophets death ceremony, excerpts from an invented sacred text displayed on the walls of the gallery as didactic information, as well as the mummified prophet encased in a plexiglass tomb.
MESSIAH is the sixth installment of Michael Dudeck's RELIGION project following Parthenogenesis (Pari Nadimi Gallery, Toronto, 2009), Cathexis (PLATFORM Center for Photographic and Digital Arts, Winnipeg, 2010), WombTomb (Center for Performance Research, New York, 2011), Amygdala (ace art inc., Winnipeg, 2011), and Pharmakos (The Glasshouse, Tel Aviv, 2012). In addition to these projects, Dudeck has delivered performances, group and solo exhibitions and launched publications nationally and internationally including John Connelly Presents (NYC), The Watermill Center (New York), Art Metropole (Toronto), and Gallery Connexion (Fredericton, New Brunswick). His work has been featured in the New York Times, the Village Voice, View on Canadian Art, Fuse Magazine, and he was one of 500 young artists featured in the New Museum's Younger than Jesus Artist Directory by Phaidon Press. In fall of 2012, Dudeck is one of 12 artists selected to participate in The Winnipeg Art Gallery's banner exhibition Winnipeg Now, which will feature the seventh installment of Dudeck's Religion project : The Baculum Cosmogony, curated by Robert Enright and Meeka Walsh.
PHARMAKOS
PHARMAKOS
performance by Shaman in Residence
Michael Dudeck
Saturday, 28 January, 7pm
The Glasshouse, Tel Aviv
17 Allenby street
Michael Dudeck is participating in PLUG IN ICA's Summer Institute with assume vivid astro focus, Natalie Kovacs and Philip Pocock
http://plugin.org/news/201107/summer-institute-public-programs-and-events
MICHAEL DUDECK WITCHDOCTOR featured on PerformanceRitual.com
http://performanceritual.com/2011/04/26/michael-dudeck-witchdoctor/
THE ARTIST IS PRESENT
View Michael Dudeck featured in documentary trailer about Marina Abramovic ARTIST IS PRESENT : http://marinafilm.com.
WOMBTOMB
WOMBTOMB: is the third performance/installation in Michael Dudeck Witch Doctor's RELIGION project, which involves the invention of a queer religion and prehistory which radically re-imagines the nature of human origins. This performance is a meditation upon the Death and Sex rituals of one of the factions of Dudeck's mythology, which involves the invention of a multiplicity of genitalia and hybird genders (and invented sexual acts to accomodate modified genders) as well as elaborate ritual sacrifice and mummification procedures. Separated into three movements, the work features a cast of five performers, including Dudeck, as well as live sound by Composer/Sound Artist Andy Rudolph, is roughly 40 minutes and features nudity.
Performers : Ryan Brewer (NYC), Andrea Von Wichert (Winnipeg), Mia Van Leeuwen (Winnipeg), Kristen Andrews (Winnipeg)
FREE TO THE PUBLIC (Donations accepted)
WOMBTOMB is the Second in the New Voices In Live Performance Series at CPR, curated by The Watermill Center.
Center for Performance Research, 361 Manhattan Ave, Unit 1 Brooklyn, NY May 2, 2011 7:30pm
http://www.watermillcenter.org/events/wombtomb
http://www.cprnyc.org/eventcalendar
AMYGDALA
Performance
Opens 7:00pm, begins 8:00pm
Friday, January 14
Exhibition
January 14 - February 17, 2011
aceartinc
2nd Floor, 290 McDermot Avenue
Winnipeg, MB
Performance Artist and Cultural Engineer MICHAEL DUDECK WITCH DOCTOR and Sound Artist/Composer ANDY RUDOLPH present an electro-acoustic ritual performance featuring a cast of 13 performers.
A residual/contextual aftermath, merging drawings, sound, sculpture, video and photography will remain on display from 14th January to 17th February 2011. The exhibition features collaborations with artist Larry Glawson.
Amygdala is the second performance/exhibition in a 10-year project where Dudeck is inventing a Queer Prehistory and Religion which radically re-imagines the nature of human origins. In this cosomogony humanity separates into all male and all female homo-normative tribes, and this division eventually leads to a devastating war between the genders.
The exhibition at aceartic centers around the female war religion, and the performance on the opening night is a ritual recitation of portions of the Amygdala, the female religion's sacred text. Chanted in Dudeck's invented language and transmitted/altered by Rudolph's elaborate sound system, the performance is roughly one hour and features nudity. Audience is asked to stay for the entire duration of the ritual.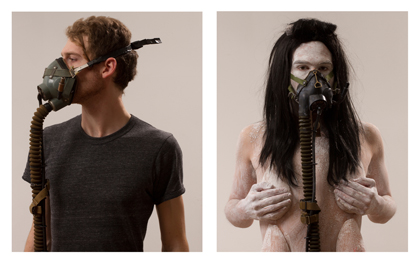 Michael Dudeck Witchdoctor in Conversation
with curator Jovana Stokic
LOCATION ONE, New York, Nov. 4, 2010
AMYGDALA PROTOTYPE
Performance / Installation
6 Nov., 2010
6pm
The Watermill Center
39 Watermill Towd Road
Watermill, New York
On November 6, 2010 Michael Dudeck will present a prototype of a performance and a series of drawings and texts that he has been working on during his residency. VOWS is a durational residency which involves a 28-day vow of silence he has undertaken while developing this body of work.
Dudeck's work centers on an invented religion and Queer prehistory, which radically re-imagines the nature of human origins. Humans separate into all male, and all female homo-normative societies, where heterosexuality is reserved only for the purposes of procreation. Currently Dudeck is in the process of designing and building an exhibition focused on the female tribe and its war rituals. The residency is dedicated to creating a vast cosmogony through text, image, and performance wherein he anthropologically examines an invented female warrior culture.
The performance on November 6 will feature the artist as the multi-breasted AMYGDALA, performing an ancient rite wherein portions of his invented cosmogony are recited whilst under ritual trance.
VOWS
Artist Residency
Watermill Center, New York
www.watermillcenter.org/residency/dudeck
VOWS is a durational residency which hybridizes multiple monastic forms in the creation and execution of new work. For an entire moon cycle (28 days) Dudeck will undergo a vow of silence, and will consume only one meal a day, between 4 and 6pm. He will wake everyday at 8am; begin a series of morning rituals; work on drawings, cartographies, and texts during the day; break for the one meal; and for 3 hours each evening will develop a performance in relation to the drawings and writings created.
Dudeck's work centers on an invented religion and Queer prehistory, which radically re-imagines the nature of human origins. Humans separate into all male, and all female homo-normative societies, where heterosexuality is reserved only for the purposes of pro-creation.
Currently Dudeck is in the process of designing and building an exhibition which focuses on the female tribe and its war rituals. The residency will be dedicated to creating a vast cosmogony through text, image, and performance wherein he anthropologically examines an invented female warrior culture.
At the end of the residency Dudeck will present the performance with a series of drawings and texts in the gallery. The performance will feature the artist as the multi-breasted AMYGDALA, an empress and War Priestess reciting an ancient text which tells of the massacres the female tribes inflicted on the male tribes during their Schism.
RITUALIZ'D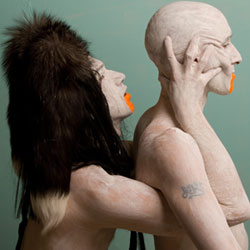 Exhibition
20 May - 26 June 2010
Opening Reception + Performances
Thursday 20 May, 7:30pm
Panel Discussion
Thursday 24 June, 7:30pm
PLATFORM Centre for Photographic + Digital Arts
121-100 Arthur St. Winnipeg, MB
PLATFORM centre for photographic + digital arts is pleased to present the exhibition, Ritualiz'd, featuring Winnipeg-based artists: Leah Decter, Michael Dudeck, and Freya Bjorg Olafson.
A three-person exhibit, Ritualiz'd, will act as an investigation into notions of ritual from various starting points. Decter, Dudeck, and Olafson will examine how the medicalization of society, the history of ancient myth, and cyberspace all leave traces on the body in a ritualized manner. To do so, the three artists will stage individual performances opening night, animating and/or creating installation components, the ephemera of which will remain as residue throughout the remainder of the exhibition.
Curated by J.J. Kegan McFadden, this coming together of voices is meant to comment on aspects of the past, present, and future of ritual, its place in contemporary society, and what role, if any, the photographic and digital arts play in its presentation and understanding.
MARINA ABRAMOVIC — ARTIST IS PRESENT
From March 10-May 5th I will be in New York assisting with Marina Abramovic's large-scale performance retrospective at the Museum of Modern Art, Artist is Present, curated by Klaus Biesenbach. I was chosen as one of 35 performance artists to re-perform 5 of Marina's earlier works for the entire duration of the three month exhibition. I attended Marina's Cleaning the House Workshop in August in upstate New York, where we fasted and underwent four days of endurance training with the other artists under Marina's tutelage. However due to unexpected VISA issues, I will no longer be performing in the exhibition. Thankfully I have received funding from the Manitoba Arts Council Special Projects Grant to assist my continued involvement in the exhibition. My function will be threefold ; I will be assisting Marina throughout the event, volunteering my services for the Marina Abramovic Institute for the Preservation of Performance, as well as launching my SHAMAN-IN-RESIDENCE project wherein I will be providing shamanistic and energetic support to all of the performers individually throughout the duration of my stay.
The exhibition opens on March 15, 2010 and runs until May 31st, 2010.
THE INSTITUTE FOR ART RELIGION AND SOCIAL JUSTICE
While in New York from March 10-May 5th, in addition to my services towards Marina Abramovic's exhibition at the MoMA I will be interning two days a week at the Institute for Art Religion and Social Justice. I will be helping to organize a performance art event featuring a number of artists, including myself, in which I will premiere my durational performative opera The Embryonic Chants (more info coming soon). This event will be the second project of the Institute following the success of its first exhibition, Compassion, curated by AA Bronson.